References
In the following you will find a selection of our customers and projects.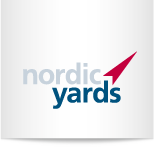 Beim Bau zweier Rettungsschiffe (Multipurpose Rescue and Salvage Vessel -MPRSV) konnte die "Baltic One GmbH", durch die Beistellung einer leitenden Elektrofachkraft, "Nordic Yards" unterstützen.
Die "Baltic One GmbH" übernahm die Verantwortung bei der baubegleitenden Inbetriebnahme der elektrotechnischen Anlagen.
Übergaben an den Eigner und der Klasse (RMRS) wurde durch unser Personal durchgeführt oder bei Abgaben, durch Fremdfirmen, organisiert und begleitet.
Nach der erfolgreichen Erprobungsphase inkl. Probefahrten und Bollard -Pull in Norwegen wurde die Überführung der " Beringov Proliv " nach Korsakov ( Russland) von unserem Personal repräsentativ für die" Nordic Yards" begleitet.